Letter Bottle - Here are two good ideas from ???? ( I can see you, but I can't remember your name!) She fills a water bottle with colored rice and letter beads. Children can turn the bottle around and identify letters, look for letters in their names, etc. She also makes "BINGO" cards with letters on one side and numbers on the other side. These can be used throughout the year for identification, sounds, addition, etc.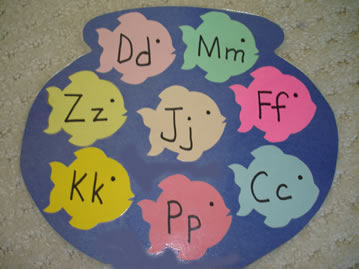 Cycles - Cut a 1" strip around the top of a lunch sack. Write the days of the week on the strip. Put a star by Sunday so children will know where to begin. Children rotate the circle around as they read the days of the week. The concept of "cycle" will become very clear. *This could also be used for months, life cycles, etc.
Zero the Hero's Song - Erin Roche of Valdosta, GA, taught us this song for when Zero the Hero (a stuffed bear) visits every tenth day of school. It goes to the tune of "Coming Round the Mountain."
When you see a zero on the number line.
You better watch out for a signal or sign.
From our friendly super hero
Who loves the number zero.
Oh, he'll always come to visit right on time!
ZERO THE HERO!
Then the bear goes around the room and gives all the children a "high zero"! Make a fist (zero fingers) with your hand and touch with your partner's fist.