Who Is Dr. Jean?
I used books similar to this one when I was a teacher to help create a personal relationship with my children and their families. I wanted you to know who I was personally, but I also thought this might serve as a model for a book you would like to make about yourself to share with your students. Thank you for being my friend!
Who Is My Teacher?


My name is Dr. Feldman and I'm excited about being your teacher this year.
I was born in Milan, Tennessee, in 1947. That makes me over 60 years old.

I have two brothers and one sister.
Here's my picture on my first day of kindergarten. I was so excited when I finally got to go to school! I loved my teacher, my friends, and I loved to learn! Painting, singing, story time, and playing outside were my favorite things.
My father was a teacher, too.
He taught in a one room school house a long, long time ago.
This is my husband John.
This is my son Nick.
He has three rescue dogs –
Lily, Blossom, and Hattie.
This is my daughter Holly with her husband Peter.
This is my grandson K.J.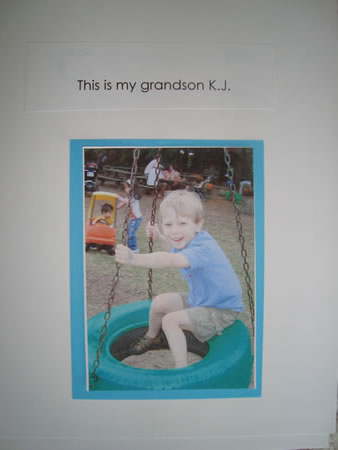 Here's my baby granddaughter Kalina.
I like to walk, ride bikes, and exercise.
I also like to read books and cook.
I like pizza, I like birthday cakes, and I like peanut butter and jelly sandwiches.
But most of all, I like children!
We'll have a great year together!
We'll sing, read, play outside, and have lots of fun learning!
I'm glad you're in my class!