Curriculum Ideas
Dr. Jean Camp Kindergarten Boston 2010
Alana Sueltenfuss: Preschool, Massachusetts
Idea/Website

Explanation/Other Information

Alphabet Recognition
Alphabet matching (upper to lowercase) Alphabet sequencing
        Or Number Sequencing
Number Identification Skip Counting

Use a seasonal shape (apples, mittens, umbrellas) and photocopy on colored paper
Write a letter or number on each shape
Present to students and have them sequence group or match upper and lowercase letters
Worked well in K-1 classroom with students with developmental delays

Also improved their ability to identify what they would see in a given season

Florida Center for Reading Research

Reproducibles and explanations for activities teaching the 5 areas of literacy

Broken into grade levels and into categories within grade levels
Teaching Money Conversion

Will need strips of oak tag or any type of hard paper
For converting pennies to dimes: trace 10 pennies on the paper, write an = sign, and trace one dime
For converting pennies to nickels: trace 5 pennies on the paper, write and equal sign and trace one dime
Continue with whatever conversions you want to teach
Game: will need coins, strips your created and a dice with numbers 1-2
Child rolls dice and places that many pennies (any coin you are working on) on the board
Continue until child can trade in his/her smaller coins for the larger target coin

Continue game
American Sign Language Websites
and Book Titles
Check out YouTube for classic picture books being signed
Carrie Malnor sent this note and some photos:
I have been to "Tips, Tricks and Terrific Ideas" and "Razzle Dazzle Centers and Activities" and re-read the books from it alllllll the time. The songs, the transition tricks, the funny little things that make Kinders feel special...I love it all.
This year, I typed out your haircut (tune, Happy Birthday), new shoes, and lost a tooth (tune, Turkey in the Straw) songs and laminated them and put them on magnet clips so the kids can grab them for our Morning Meeting if we need to celebrate! They LOVE it! I attached the typed up versions...so cute!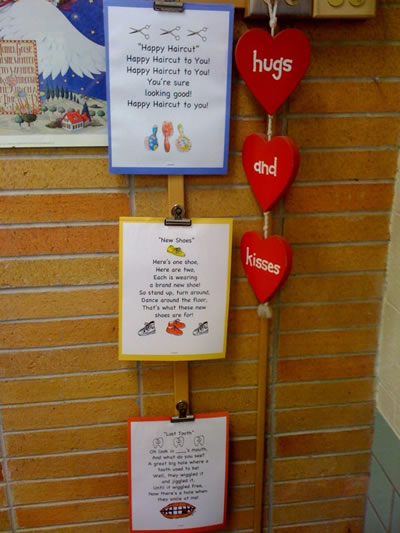 You may download Carrie's song sheets in our Downloads section this month.